What You Can Find Here
  Persatuan Arborist Malaysia, PArM will be hosting ACP 14th on 17th-26th July 2017 at Paya Indah Wetland. Kindly download and complete the above...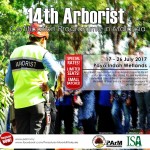 In conjunction with PArM 9th AGM meeting, we are organizing a Seminar on Introduction of Tree Risk Assessment Qualification (TRAQ). This Seminar will be...