What You Can Find Here
Salam and Selamat Sejahtera kepada semua ahli, Di sertakan notis panggilan mesyuarat Agung Khas (EGM) PArM 01. Agenda EGM juga telah disertakan...
For registration click here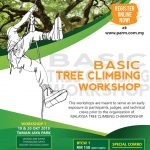 To all PArM Members. Technical Visit to Royal Belum, Perak, Malaysia – 24 to 25 August 2019. Open to all PArM Members only. More information is available...